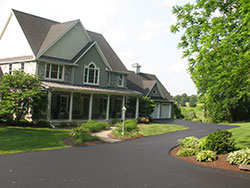 Driveways – Experts In Residential Driveway Paving
We have completed over 20,000 jobs since 1936!
Quality, long-lasting driveways is the B.R. Kreider Driveways signature on thousands of residences throughout Lancaster, Manheim, Lititz, Hempfield, Hershey, Elizabethtown, Lebanon, and the surrounding areas in Central PA.
You want the paving of your driveway done right and done right the first time – which is how B.R. Kreider Driveways has satisfied homeowners since 1936.
Our team of experts will guide you through every step of our process, using our experience, expertise and state-of-the-art equipment to deliver a driveway you'll be proud of for many years to come.
Click here to see samples of our driveways
We Dare To Compare!
We encourage customers to compare our capabilities with our competitors. Below you will find a a link to download a PDF of our Paving Checklist showing key aspects that should be compared.
A Better Paving Process
Means A Better Driveway!

The B.R. Kreider Driveways' approach begins with a professional assessment of your driveway needs, followed by a fair and accurate quotation with a bottom line price you can rely on.

A Solid Base

We will help you determine what is needed to achieve a solid subgrade and stone base for a long lasting driveway.

Driveway Slope

One of our primary objectives is to install a minimum of 1% slope to prevent puddles and promote proper water drainage.

Transitions to Existing Asphalt

Paving notches are milled into existing asphalt and sealed to create a smooth transition and to prevent the new asphalt from getting thin.

Extended Life

For new installation, 2 layers of asphalt are recommended and for existing driveways a compacted leveling course of asphalt is recommended before repaving.

Compaction is Key

Compaction determines the longevity of your driveway which we achieve with our vibratory rollers. Our lighter 1 ton static roller is only used for the finish.

Taking Care of the Edges

We professionally hand tamp all of your driveway edges to aid in compaction and to create a clean and finished look.